Proposal of new menus able to be differentiated from other shops
You can increase high quality menus such as damageless perm and highly effective hair color thanks to the ultrasound.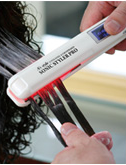 The best feature of the ultrasound hair iron 'SONIC STYLER PRO' is to promote the permeation of every hair agent such as perming agents, hair treatments, and hair color agents. Thanks to this feature, you learn to suggest new menus such as damageless perm without alkali swelling and highly effective hair treatment and color.
Non-alkali hair straightening & perming

Since the work of the ultrasound vibration permeates perming reductant, you don't have to open cuticles with alkali agents. For that, the burden to hairs is reduced, and neutral or weak acid agents enable you to do damageless perming and hair straightening treatment.
Enhance the effects of hair color and pre-treatment

In the situation where hair color or pre-treatment is necessary, our product implements advanced completion by permeating evenly and quickly. You must experience the marvelous results that the permeation effects by ultrasound produce.
Exert the original power of the treatment

Our product makes the treatment particles fine, firmly carries their ingredients to the depth of the hairs, and permeates them. Then, it exerts the treatment original power freely, and it is effective for maintaining the effects.