製品紹介 > 液剤紹介/コスメパーマ&前後処理剤
Widely range of hair style without any alkali material
Relief for the customers who mind damages to their hairs.We prepared cosmetic perming agents, pre-treatments, and post-treatments.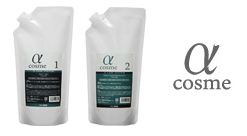 D-LESS SYSTEM
Alpha・Cosmetic 1 & 2
400ml each
This product enables you to save your time by the viscous cationic emulsified cream which is superior in the permeation to hairs. You can do some treatment even to damaged hairs gently thanks to the mixed plant-derived natural moisturizer, shea butter, and herb extracts. Mending and protective components adjust hair textures and condition and implement supple and wet completion.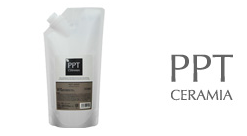 Pre-treatment
PPT.CERAMIA
400mL
It complements CMS and enhances moisturizing power. The treatment lotion leads your hair to supple and moisturized completion.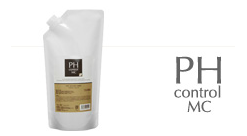 Post-treatment
PH.CONTROL-MC
400g
You can acquire the recovery effect for hair ends and marvelous shininess and hair touch feeling thanks to the mixed silk protein, keratin PPT, and plant-derived extracts. This product enables you to blow your hair smoothly in the same time as hair protection.